Outside of choosing the correct heater size for your Sauna, the door is one of the most important parts of any Sauna. A Sauna door is so much more than a way to simply get in and out of your Sauna. As far as appearance goes, the right Sauna Door makes or breaks the look of the room. Like a portal to another world, passing through the door of your Sauna should wash away the stresses of daily life and welcome you to the ultimate, refreshing, relaxing escape you're about to experience each and every time you use it.
99% of Saunas Doors are either 72″ tall, or 80″ tall. All of our panel built Sauna kits come standard with a 72″ tall glass door. Where we see more variance in the size of Sauna Doors is in the width of them. The most common widths are 24″ wide, 30″ wide, or 36″ wide.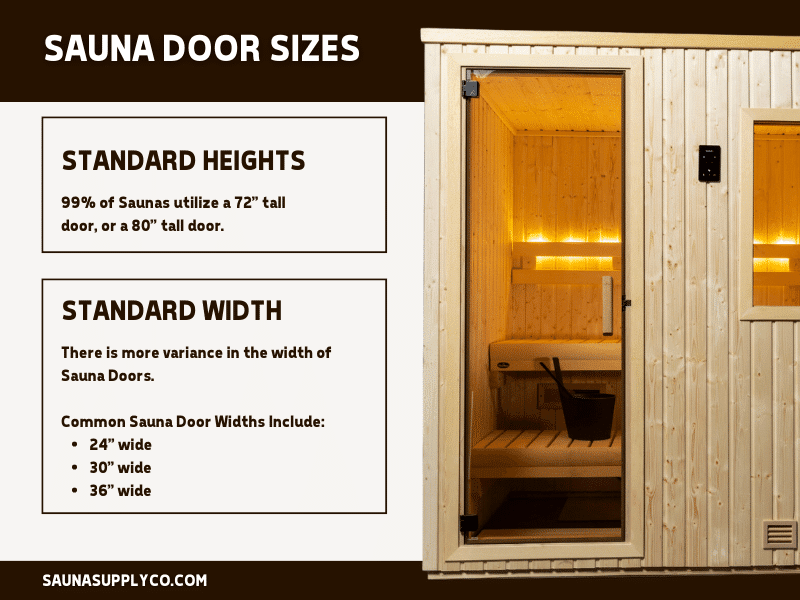 How To Choose The Right Size Sauna Door
The very first thing you should ask yourself when deciding what size Sauna door to build, or order, is the height of your room. There will need to be space on the top and bottom of the Sauna door, so if your ceiling is shorter than 8 feet tall, you will likely want to choose a 72″ door.
While it is possible to build your own Sauna door, many DIY Sauna Builders choose to order doors through us, due to the complexities of including glass, latching mechanisms, etc. All of our Sauna doors come pre hung with the exclusive Finnleo Door Latching System making it a 5-10 minute process to get your Sauna Door hung.
Have questions on Sauna Doors? Give us a call at (763)688-1488 or contact us online. We would be happy to answer any questions you have, even if you decide not to order your door through us.
Most Common Sauna Door Heights:
Most Common Sauna Door Widths:
24″ wide
30″ wide
36″ wide
Rough Opening Sizing For Sauna Doors
Once you've made a choice on the size of your Sauna door, it's time to get rough opening measurements. This is a critical piece of Sauna building and should be known prior to building the unit. If you're installing a pre-hung door, the rough opening will need to be wider than the space itself. While this is common sense for most people who have the ability to build their own Sauna, we've talked to a few to many people who built the entire unit only to size down their door later because the rough opening was incorrectly sized.
We recommend giving us a call for the correct rough opening guidelines for your Sauna door.
Important Components Of A Sauna Door
Sizing the door of your Sauna incorrectly is one thing, building it in a way that it won't seal is another. Heat escape in a Sauna is most likely due to poor door construction. With that being said, the door space is a weak point that can eventually fail either due to poor construction or poor quality.
Your door should latch properly each and every time, ensuring heat does not escape while you are utilizing your Sauna.
Glass Versus Wood Sauna Doors
All of the saunas we sell come standard with an all glass door. Glass doors offer an improved aesthetic of the Sauna itself, giving even the smallest of Sauna rooms a unique, high end feel.
It's a myth that all glass Sauna doors let off more heat escape than a wood Sauna door. In fact, all glass offers a huge advantage that a standard wood door cannot. Over the use of your Sauna, wood naturally expands and contracts, where as glass does not. Provided you do not run into your door carrying a hammer, an all glass door typically lasts longer than a wood door.
When built correctly, a wood Sauna door will stand the test of time. The door shown to the right was built by Finnleo over a decade ago (before glass doors were as popular), has been used near daily since and still seals very well. Eventually, it will need to be replaced and I will opt for one of the glass doors we sell.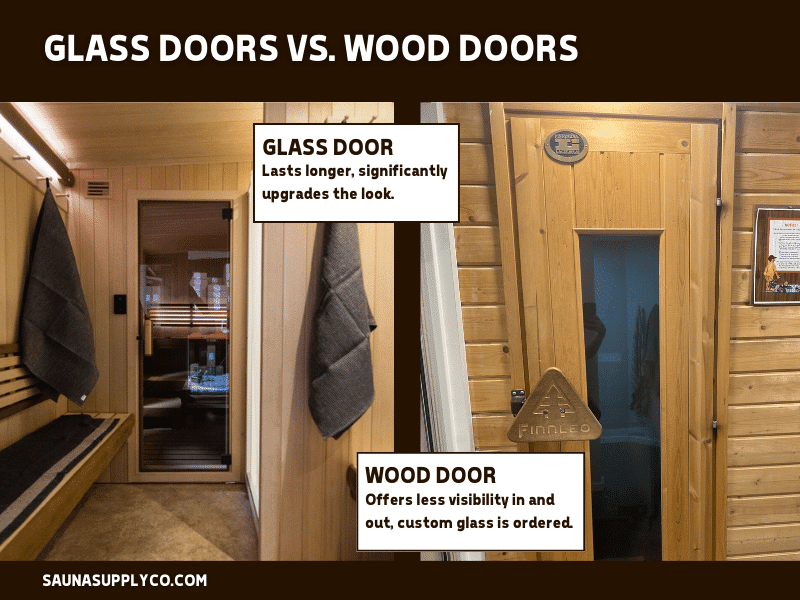 How To Latch A Sauna Door
Latching mechanisms are the hardest part of building a Sauna door yourself. While I've known hundreds of people who have built their own Saunas and have had success building the latching system, it's a truly custom part of building the Sauna. The majority of people who build their own doors end up with a handle that latches through the door itself, allowing the user to keep it shut and open it from both sides of the door.
All of our doors come with Finnleo's latching system that is designed to last for years of daily use. Don't take our word for it, go ask somebody who owns one. My personal Sauna features a Finnleo door with latching system. It was there before I owned the home and it'll be there long after I'm gone. They just simply work.
Choosing A Sauna Door Handle
There are several options to choose from should you decide to order your Sauna door through us. Our most popular Sauna Door handle is a built of Douglas Fir and laser etched. We offer handles for all glass doors as well as those with stainless steel handoffs shown in the photo below.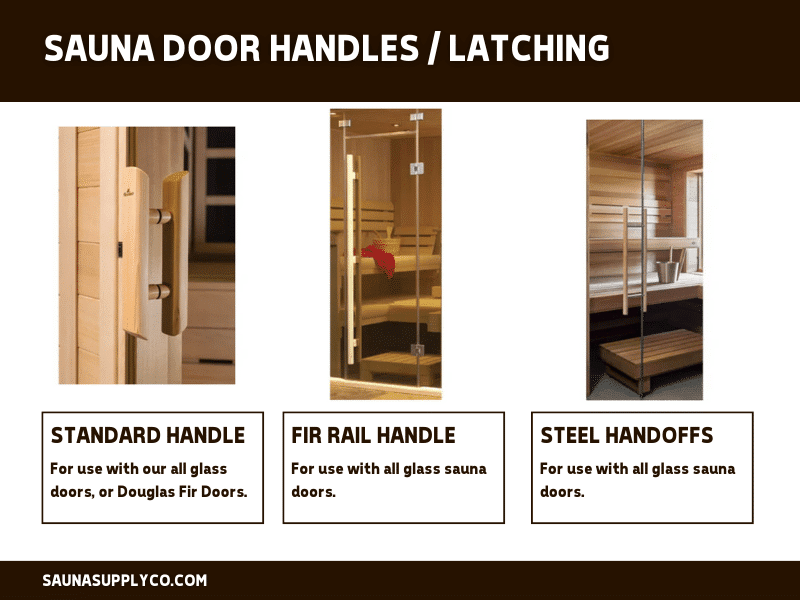 Got this far and still have questions on your Sauna door? Give us a call. We would be happy to answer any questions you have.