So you're thinking of building your own sauna? Or maybe, you're ordering from a dealer and trying to figure out what the best sauna wood is for your incoming sauna. Regardless of motive, you're in the right place. Aside from the size of your sauna, and the stove you choose, the sauna wood is one of the most important pieces of your sauna.
Choosing the longest lasting sauna wood is one of the most important decisions sauna owners make. Historically, many folks assumed that cedar was the only wood used in sauna. Actually, while Western Red Cedar, specifically, is one of the most sought after types of sauna woods on the market, it's not the most popular wood used in Saunas.
Need Wood for your Sauna Build?
Contact Sauna Supply Company, a Minnesota Sauna Wood Supplier. We carry a full line of tongue and groove wood that's carefully selected for building Saunas. This Sauna wood is the exact same material we use to build every Sauna we sell and we'd be happy to supply the wood you'll need for your Sauna build. Our clients range from homeowner DIYers to high end custom Sauna builders. No client is to large or too small! Give us a call at (763)688-1488 for a quote on Sauna Wood.
So, what wood is most commonly used for saunas?
There are 6 most common types of wood used to build saunas.
Nordic White Spruce
Western Red Cedar
Canadien Hemlock
Abachi
Alaskan Yellow Cedar
Redwood
Nordic White Spruce
Nordic White Spruce is actually one of the most popular woods used in sauna, due to it's affordability and long lasting durability. When it comes to building a Sauna, the wood used on the interior is one of the most important factors in the overall quality, determining how long the Sauna room will last. When built correctly, using the right materials for construction and with proper maintenance, a Sauna can often out-live it's owner.
Nordic White Spruce is the most commonly used type of wood to build Saunas. In fact, it is used in 97% of Saunas world-wide!
For clients seeking a Sauna built using Nordic White Spruce, our Northstar Sauna line is the single most popular choice. Of course, we do full custom indoor and outdoor saunas built using any of the recommended building materials our clients select.
Spruce Sauna Kits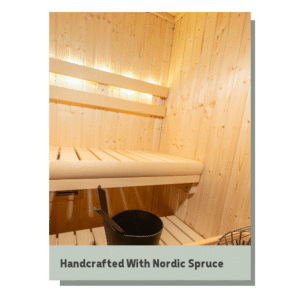 The Northstar Sauna, pictured here, is one of the most popular Sauna kits we offer. It's built to last decades and offers owners the flexibility of moving with them, should they decide to sell their home in the future.
The Northstar sauna series is a top choice for prospective Sauna owners looking to quickly get a Sauna for their home.
Northstar Saunas come in a variety of sizes and can be ordered in both indoor or outdoor units. In fact, many of our customers who initially order a Northstar Sauna for their home end up returning for another that they can use outdoors.
Our Sauna kits and custom offerings allow folks who have a desire to own a Sauna the capability to do basically anything.
For a quote on a Northstar Sauna, call (763)688-1488 or contact us online, we would be thrilled to share our passion for Sauna with you.
Western Red Cedar
Why is cedar used for saunas? Due to it's price, cedar is not actually the most popular type of wood used in sauna rooms. Western Red Cedar is one of the most versatile wood types for sauna, because of it's ability to withstand moisture and resist rot over long periods of time. As a fun fact, many of my friends Grandparents who built their saunas out of cedar back in the 50's and 60's, are still using the exact same saunas today. Cedar lasts an incredibly long time in a sauna.
Cedar Kits for Sauna
Because of the fact that sauna dealers are so few and far between, buying a kit to build your own sauna or choosing a prefab unit is often one of the best ways to get a sauna. Interested in a cedar sauna kit? We offer kits that you can install in nearly any space, in just a few hours. All of our Sauna kits come complete with everything you need to start using your Sauna right away, without buying the entire thing piece by piece, a process that can take months.
Cedar vs Hemlock in Sauna Rooms
While Hemlock and Cedar are two of the most common wood types used in sauna, cedar is the superior choice. Cedar wood, specifically Western Red Cedar, outperforms Hemlock in a sauna when it comes to durability and longevity. Hemlock is more affordable than Cedar wood for saunas, however, it is not generally the preferred choice due to the length of time cedar will last.
Canadien Hemlock
To the untrained eye, spotting the difference in Canadien Hemlock and Nordic White Spruce is actually very difficult. In fact, many sauna users will tell you that the only difference between hemlock and cedar is actually in color. Hemlock wood in sauna is a popular choice for good reason, price.
Most of the sauna units or kits you'll find online are constructed using hemlock wood, specifically Canadien Hemlock.
What lasts longer in sauna, hemlock or cedar?
Cedar wood, when maintained properly, is one of the longest lasting sauna wood types available to consumers, and will generally last longer than Hemlock. Both types of sauna wood are excellent building materials due to their moisture resistant properties, and ability to properly dry after use.
Why are saunas built using wood, won't it get moldy?
Avoiding mold in your sauna is actually very easy. There are a couple things you can do to prevent mold in your sauna, ensuring you have a safe sauna unit for years to come. Despite the fact that wood is one of the first things to mold in nature, saunas rarely experience mold issues, largely due to the wood types used in building them.
Here's how to avoid mold in sauna
Ensure your sauna is completely level, so water cannot pool on the floor in any way
Prop your sauna door open after every use ensuring healthy airflow throughout the unit
Check sauna benches regularly and replace as needed
Do not leave wet buckets, towels, or other items sitting in your sauna
Avoiding mold in a sauna is actually very easy, most sauna owners will never run into this problem. For saunas inside your home, letting your air conditioning or furnace maintain the homes humidity and simply propping the door open will take care of the rest!
Minnesota Sauna Wood Suppliers
If you're building your own Sauna and simply need to source the wood, give us a call at (763)688-1488 or contact us online. We'd be happy to give you a quote on any of the Sauna wood we use to build our own Saunas. We supply Sauna wood to DIY homeowners, as well as custom sauna builders. No client of ours is to big, nor too small!